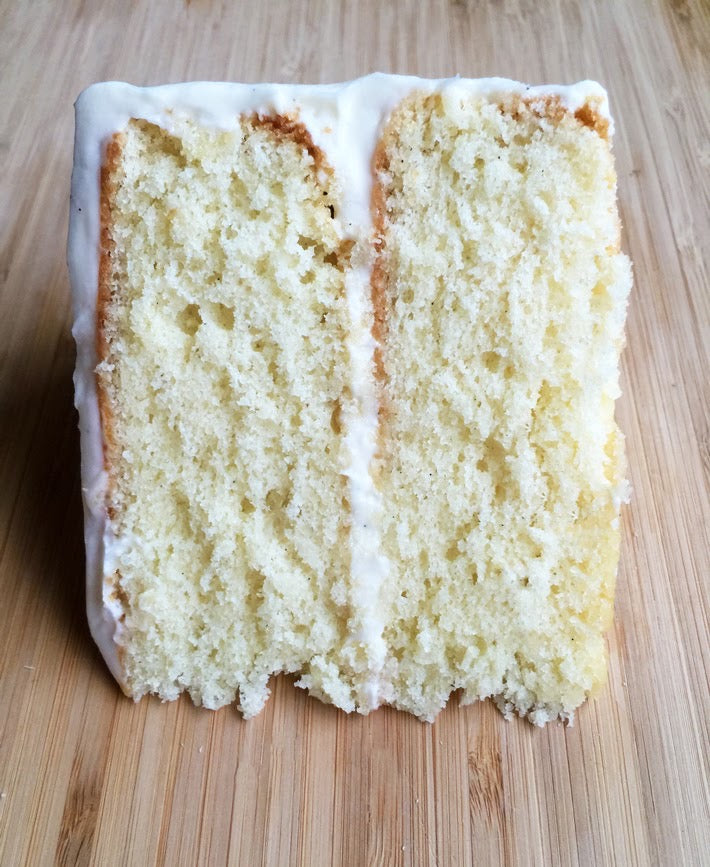 Everyone needs a good vanilla cake recipe in the arsenal and trust me, this is it! This cake is moist, creamy, classy, very vanilla and very versatile.
Ingredients:
¾ cup butter at room temperature

1 ¾ cups granulated sugar

2 large eggs at room temperature

2 ½ tsp. vanilla bean paste

(Vanilla extract may be substituted)

2 ½ cups flour

2 ½ tsp. baking powder

½ tsp. salt

¾ cup milk at room temperature 

½ cup heavy cream at room temperature
Preheat oven to 350°F and grease a 9x13 pan (or two 8" round pans).
In a medium bowl combine flour, baking powder and salt. 
Measure and combine the milk and cream. 
In the bowl of a stand mixer with paddle attachment, cream together butter and sugar until it's looking fluffy. Add the eggs one at a time until incorporated. Add vanilla bean paste.
Add flour mixture and milk/cream mixture in three batches, starting and ending with flour mixture. Continue to beat on medium high for 2 minutes.
Pour batter into a 9 x 13 baking pan and bake for 35 minutes (25-27 minutes for two 8-inch rounds) or until cake tester comes out clean.
This cake is the perfect denser texture for layering, using in a trifle and cake-pop making.
Enjoy!