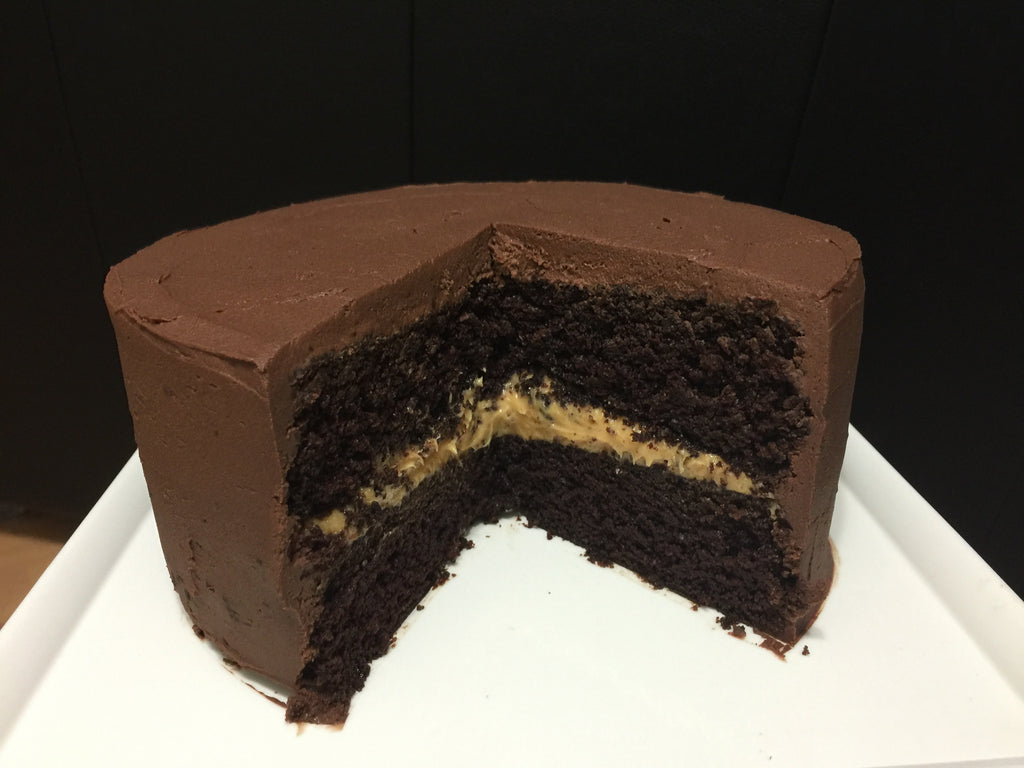 This chocolate cake is uncomplicated and very very scrumptious! Even the finest chocolate snobs (like me) will give this chocolate cake recipe a "two thumbs up"! 
What makes this chocolate cake recipe so special?
There are a few ingredients in play that you don't often find in chocolate cake recipes. The first is butter. Traditionally, chocolate cakes are made with oil, which is one of the reasons why chocolate sometimes doesn't translate as deliciously into cake form. 
Second, is greek yogurt. It's good for you and provides the right amount of acidity and a welcomed tang to the cake. I also like to use greek yogurt because it's most likely already in your refrigerator, unlike buttermilk, which is sometimes used in chocolate cakes, and will not have much use for after making this cake. 
Third, is hot brewed coffee. Yes, coffee brings out and deepens the flavor of chocolate like no other. Chocolate and coffee are best friends in my world. The coffee taste isn't prominent at all in the flavor of the cake, yet it lends its rich notes to the chocolate. Boiling water is usually the "activator" for chocolate cakes, which does absolutely nothing for the flavor, so I figure, why not use this necessary addition to add more pizzazz to it!?
By the way, this cake can also be used for making cake pop dough! 
Chocolate cake is hands-down one of the more difficult flavors to shape when making cake pops, but not any longer! This chocolate cake makes delicious and beautiful pliable dough that you can shape smoothly. Bam. 
Kris' Chocolate Cake
Makes two 8 inch rounds -or- a 9x13 inch pan
Ingredients
1 ¾ cup flour
2 cups sugar
¾ cup unsweetened cocoa powder
2 teaspoons baking soda
1 teaspoon baking powder
½ teaspoon salt
⅓ cup milk
⅔ cup greek yogurt
2 eggs at room temperature
1 teaspoon vanilla
½ cup (1 stick) salted butter, melted and cooled
1 cup hot brewed coffee
Step 1
Preheat oven to 350 degrees. 
Butter the pans making sure the sides and edges are buttered thoroughly. Dust flour onto the sides and line the bottom of the pans with cut parchment paper for easy removal. 
Step 2
In a large bowl, or in a bowl of a stand mixer, whisk together all dry ingredients until combined.
Step 3
Add eggs, milk, greek yogurt and vanilla to the dry ingredients and beat with a hand mixer or stand mixer (paddle attachment) over low speed to combine. I prefer to use a hand mixer for this because the batter will be thick and I find it easier to manage the many different wet textures. 
While beating, pour melted butter into the batter, slowly in a steady stream. The batter will be thick. 
Tip: melt the butter in your microwave by utilizing the defrost mode or microwaving at 50% power until the butter is completely melted. This way it will not take as long to cool down. 
Step 4
Add hot coffee and carefully stir it with a spatula until completely incorporated into the batter. Pour even amounts into the cake pans and bake for about 35 minutes or until a cake tester pulled from the center comes out clean. 
Step 5
Let cool completely before turning out on wire racks.
Enjoy this cake my way - with chocolate ganache and a peanut butter filling!