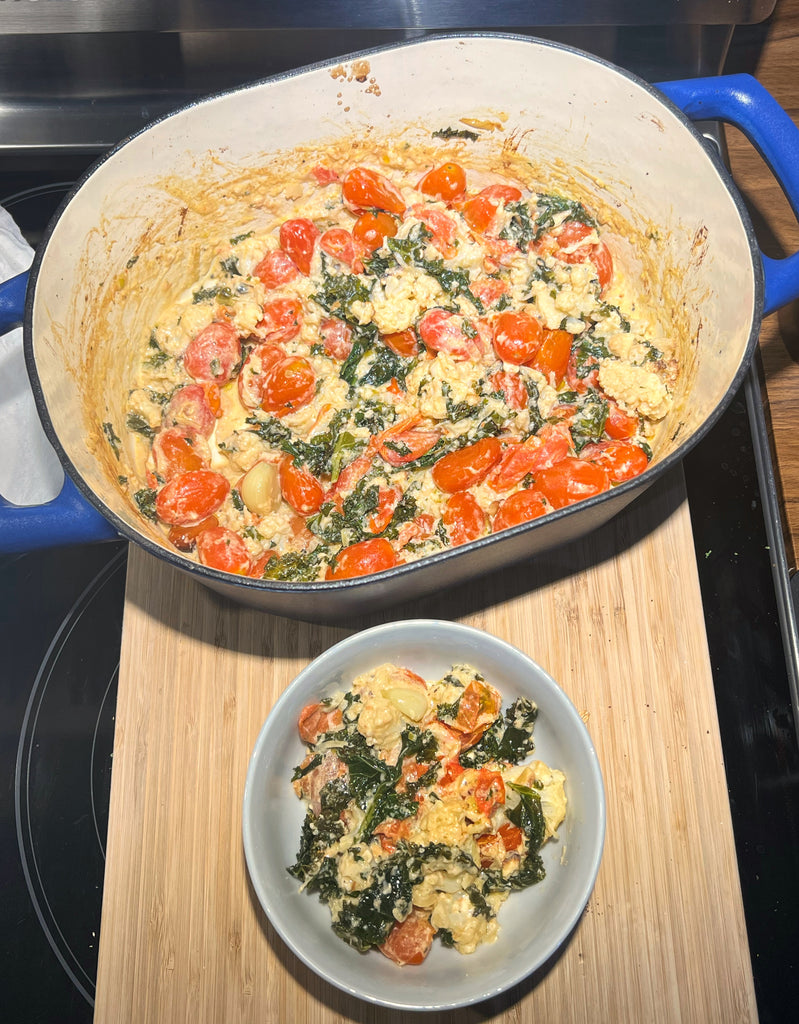 Super easy and crazy delicious, this cauliflower, tomato and kale dish will be a new staple meal in your home. Everything goes in a Dutch oven and roasts for about 50 minutes. Serve up with lots of crusty or toasted bread. 
Ingredients:
Shallot or Small Onion, chopped
Large head of Cauliflower 
3 Pints Grape or Cherry Tomatoes
5-6 Large Garlic Cloves, peeled
6-8 oz Feta Cheese
1 Bunch of Kale, ribbed and chopped 
1/3 cup Extra Virgin Olive Oil
Salt + Pepper
Red pepper flakes (optional)
Crusty / toasted bread
Preheat oven to 425 degrees (400 if using a convection oven). Toss together the chopped onion, cauliflower, tomatoes, garlic, feta, EVOO and salt + pepper in an oven-safe dish. I like to keep the tomatoes on one side and cauliflower in another. Roast uncovered for 50 minutes. 
In the last 10 minutes of roasting, add chopped kale and give it a quick stir. Place back in the oven to finish. 
Best to use a fork - smash to burst a few of the tomatoes so the juices combined with the melted feta create a sauce. Smash the garlic cloves as you spot them. Taste and season with more salt if desired. For a kick, add a couple of dashes of red chili flakes.
Serve immediately with a side of toasted or crusty bread. Let us know how you love it in the comments below. Enjoy! ❤️