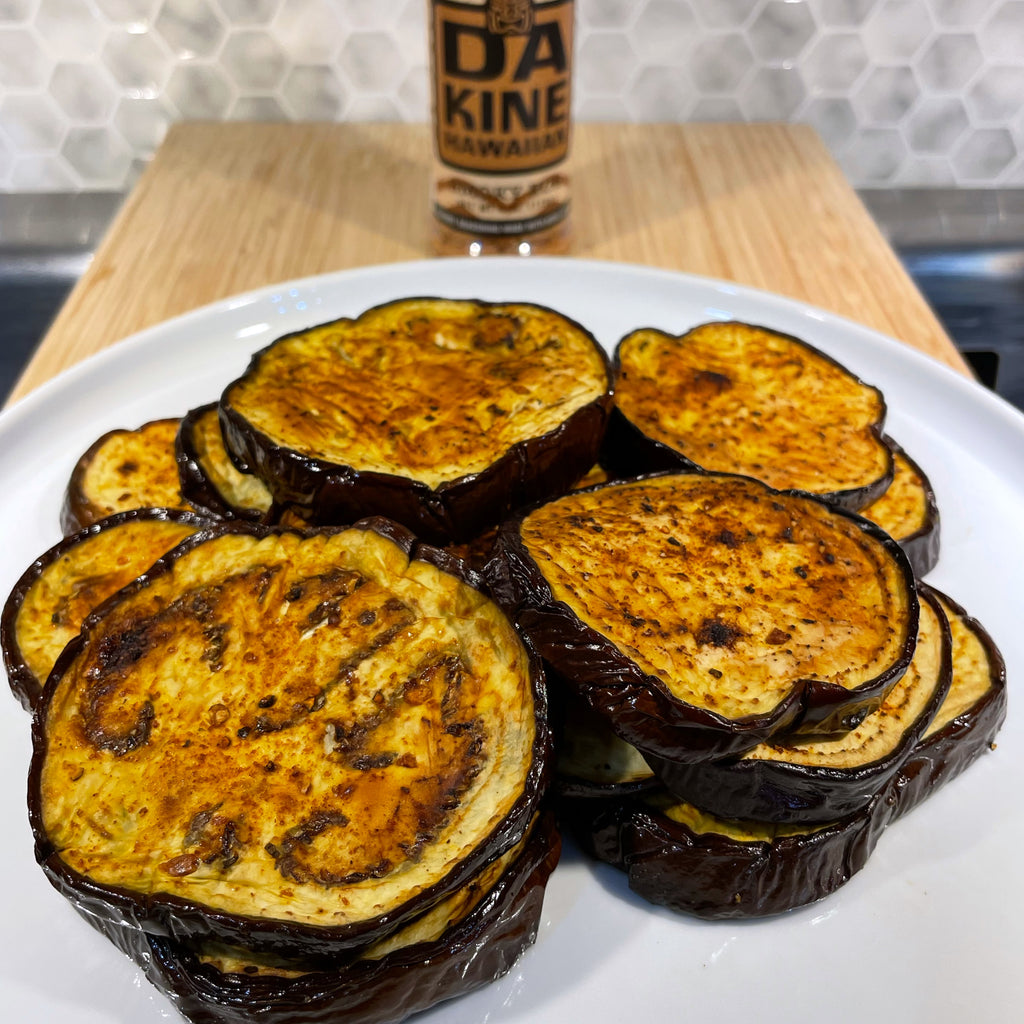 Eggplant is a very underrated food. Technically a fruit and not a vegetable, eggplant is gets little love. One of the reasons is because people find the cooked texture to be very rubbery and chewy. Another reason is sometimes it has a bitter taste. In general, most find eggplant very difficult to cook. I'm here to change your views on all of that. This super easy recipe will yield melt-in-your-mouth eggplant and a tried and tested method for preparing it. 
This recipe features DAKINE Hawaiian Smoky Rub. Any of these rubs can be used for this recipe, depending on your personal preference. 
Eggplant 101
There are many varieties of eggplant and they vary between regions. In my area of the world, the plump purple Italian eggplant is the most common type that can be found at any grocer. When selecting an eggplant, make sure there are no blemishes and the skin appears shiny, smooth and tight.
Eggplant is mostly composed of water so if it isn't prepared properly, it will steam as it cooks, no matter the method, and absorb other liquids with it, like oil if fried. It will also highly likely be bitter in taste. Eggplant has a very special step before cooking that should not be skipped! Do this each time and you'll find yourself a fan of eggplant. 
Melt-in-Your-Mouth Roasted Smoky Eggplant Recipe
Side dish: Serves 4
Ingredients:
1.5 lbs eggplant
Kosher salt or sea salt
About 1 Tablespoon DAKINE Hawaiian Smoky Rub
Any cooking oil spray, preferably EVOO or avocado oil
Directions:
1. Wash and slice eggplant into 1/2 inch slices.
2. This is thee key step. Liberally sprinkle each slice with kosher salt on both sides. Place in a colander to drain or allow each slice to lean on one another on a cutting board.
3. Allow the eggplant to sit for at least 30 minutes. I typically leave them for about an hour. This draws out moisture and with it, the bitterness.
4. After an hour has passed, preheat the oven to 400 degrees.
Give the eggplant a quick rinse under running water to remove the salt and the inner liquid. Place on a kitchen towel and pat dry. Leave them on top of a kitchen towel until the oven is ready.
5. Prepare a baking sheet by spraying it with the cooking oil spray. Place eggplant slices on the baking sheet and lightly spray with oil. Sprinkle the DAKINE Smoky rub all over the eggplant, flip and season the other side.
Bake for 20 minutes. Flip and bake for an additional 10 minutes. Serve while warm.